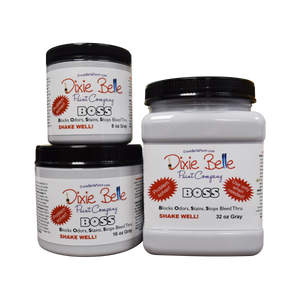 BOSS contains odor eliminating and stain blocking technology for exceptional coverage. This creamy formula glides on smooth and dries in about an hour.
BOSS prevents bleed thru of wood tannins and varnishes, allowing you to transform any piece to a crisp, light color with ease. This product will completely mask odors on old furniture that may have been exposed to smok with an e, pets, or other circumstances that contribute to odors.
In two coats, BOSS tackles tough set in stains including permanent marker, water stains, and much more. BOSS even masks smoke odors and nicotine smells. BOSS is a water based formula that mimics an oil based or shellac product. That means easy soap and water clean-up
**************************************************************************************
Instructions
Step One
Before you get started, make sure your surface is free of dust, grease, wax, peeling paint, mold, and mildew. For laminate or high gloss finish, you will want to sand the surface thoroughly. Clean first with White Lightning, rinse, and allow to dry. It is important to avoid humidity when using the product. Your piece must be dry prior to painting.
Step Two
Apply one coat and allow to dry.
Step Three
Apply a second coat and allow to dry.
Step Four
Wait one hour, then paint with Dixie Belle Paint.
Now you can choose your favorite color of Dixie Belle Paint and completely cover the surface. The final step is to finish with Clear Coat or Gator Hide and rest assured that stains and odors will not seep through your beautiful piece!