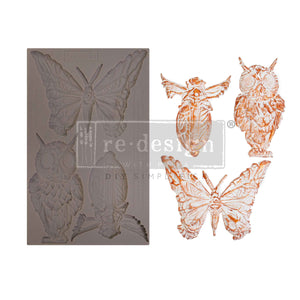 Introducing the "Clio" Décor Mould®, a unique and versatile tool for DIY enthusiasts. This stunning mould features three highly detailed designs, including a regal owl, wondrous butterfly, and fabulous beetle; each perfect for adding a touch of natural whimsy to your crafting and DIY projects.
Redesign's Décor Moulds® are durable, oven-safe, food-safe, and of the highest quality, allowing a variety of materials, including resin, hot glue, modeling material, and more, to help you create unique castings that are perfect for a variety of DIY projects.
Whether you are an experienced crafter or just starting out, the "Clio" Décor Mould® (5"x8") is a must-have for your crafting supplies. Order yours today and start creating beautiful, unique castings that will add charm and character to any project.